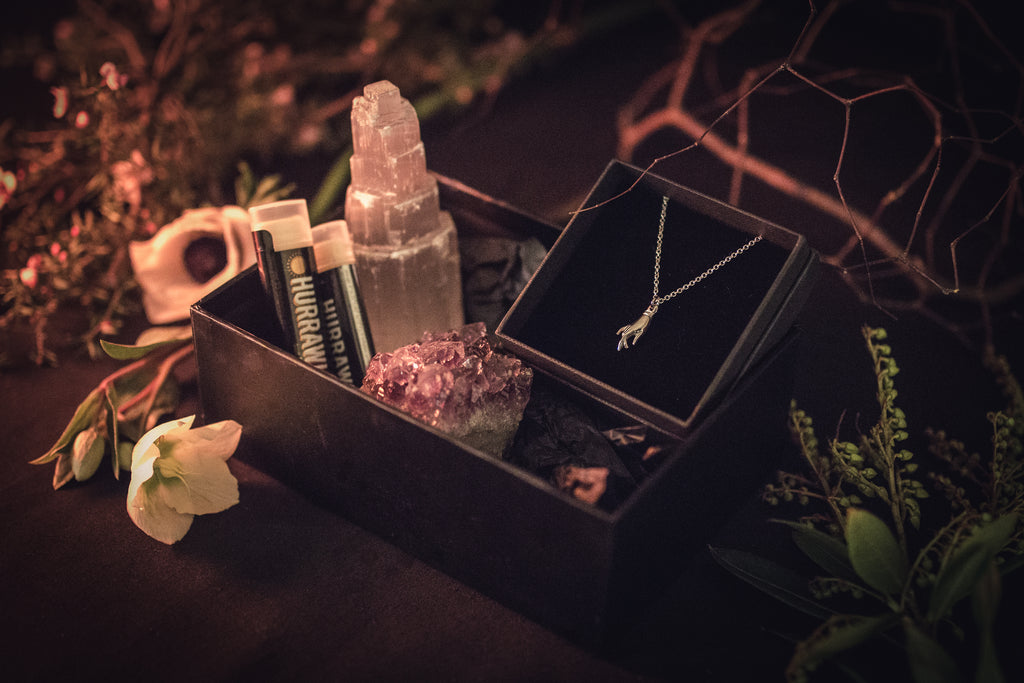 Brimstone Gift Box
The perfect gift for the special man or woman in your life, or a treat for yourself.

The Brimstone Gift Box includes:

Your choice of ONE of the following necklaces:
Seer (Hand)
Wrest (Noose)
Serpent
Morning Star (Hexagon)
Ouroborus

All necklaces are made in solid sterling silver, on a 50cm solid silver chain. The perfect jewellery gift to give when you do not know ring sizing. Please send a message if you wish to order a gift box with a 9ct gold necklace.
Made by hand in Brimstone's Auckland studio.

- A combo of 'HURRAW!'s' Moon Balm and Sun Balm.
These balms are all natural, vegan, made from premium raw, organic and fair trade ingredients.

Moon Balm:
Extra thick, creamy and rich; this balm has some serious staying power. The Vanilla and Peru Balsam scent will lull you to sleep.
Azulene packed Blue Chamomile lends a gorgeous green-blue color and soothes your lips for some true beauty z's!

Sun Balm:
SPF 15 Sun Balm will give your lips the extra protection they need.
It glides on silky smooth and virtually clear and is formulated it to be extra thick and creamy for longer staying power while out in those shining rays!
Juicy Tangerine with hints of Vanilla...the unique scent of Roman Chamomile lends a calming note.
Packed full of amazing cold pressed oils to moisturise, protect and heal.

- Amethyst crystal cluster.
Amethyst is said to have the strongest powers to rid your home of negative energy. Perfect to place by your bathtub, in a workspace or at your bedside.

- Selenite Tower
Selenite comes from the Greek word for moon and means "moon glow", and these Selenite tower pieces do glow with a shimmery, pearl-like lustre.


Please note - each crystal will vary from the photographed item, but have been hand selected by myself and are each stunning and beautiful quality. Selenite is a soft mineral and should be kept dry and dusted gently to retain its beauty.